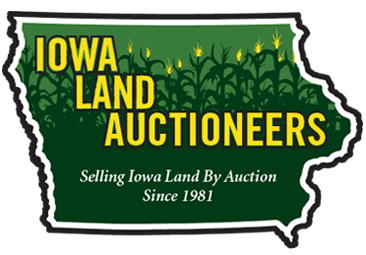 Why Iowa Land Auctioneers?
"We have partnered with Iowa Land Auctioneers since 2011 with 100% satisfaction. They bring tremendous value to the entire selling process, offering their expertise from start to finish with an effective advertising and personal marketing approach, choosing an ideal location and carrying out an exciting and successful auction day. Having personally been in the Farm Management and Real Estate business since 1982, I was watching longtime clients hire competitors to sell their land because we did not offer professional auction services. By partnering with Iowa Land Auctioneers, we are now able to assist our valued farm clients, in selling their most valuable farm asset, in the most effective selling format, the live public auction."
Mike Nissly - Nissly & Nissly, Inc.


Iowa Land Auctioneers offers you the opportunity to partner with professionally trained auctioneers who know how to sell valuable Iowa Farm Land by auction.

Iowa Land Auctioneers allows Sellers the opportunity to work with their trusted local land professional in listing and closing the transaction.

Iowa Land Auctioneers creates and implements an effective selling strategy through:
A blanket advertising approach, including signage, print, radio and internet advertising.
The drive to hit the ground running with a focused marketing approach, including direct mail information and face to face exposure to all known potential Buyers.
Choosing the ideal location to host the auction, with a comfortable and peaceful environment allowing all attendees to be at ease.
The availability of Live Online Bidding for those Buyers who cannot attend the auction in person.
An auction day promoting excitement and ensuring engagement from all interested Buyers.